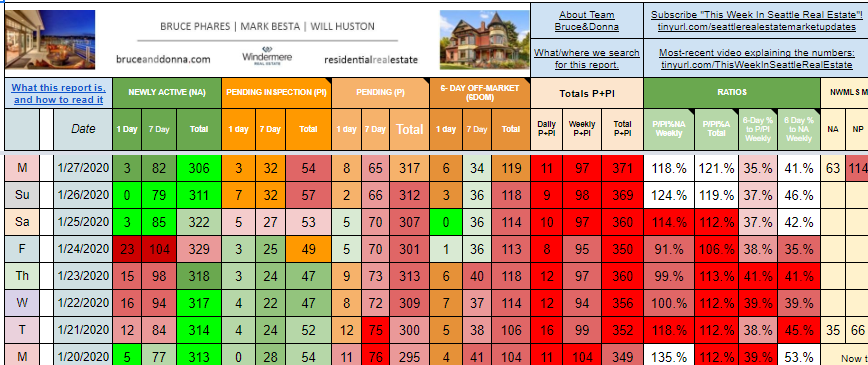 It remains a seller-friendly market again this week, and we take a look at price trending since March/Post-Covid Shelter-In-Place.
5/21/2020 NA Total just over 600. PI ebbed slightly from surge on Tuesday. P Total YH. 6DOM Daily, Total @PCH. P/PI Total @YH. Ratios: P/PI%NA Wkly ebbed after almost hitting 100%.P/PI%A @99%!. 6DOM%P/PI Wkly holding % 45%, 6DOM%NA Wkly ebbed to 36%, after 45% a few days ago. NWMLS Mkt Watch NP%NA Wkly@ 133%. Int Rates insanely low @ 3.04 yesterday.
Subscribe to either the monthly, weekly, or daily email updates here: http://tinyurl.com/seattlerealestatemarketupdates
See daily updates to our market graph: tinyurl.com/BPStatisticsDaily
That's it for now, we hope you will continue to stay safe, stay healthy!
Bruce Phares
We sincerely thank you for the generous referrals of your family and friends! It's the highest compliment you can give,
and you can be sure we'll represent them loyally and confidently. We welcome the opportunity to make you glad you did!
30+ Years Of Real Estate Excellence – Seattle Magazine 5-Star Real Estate Agent since inception