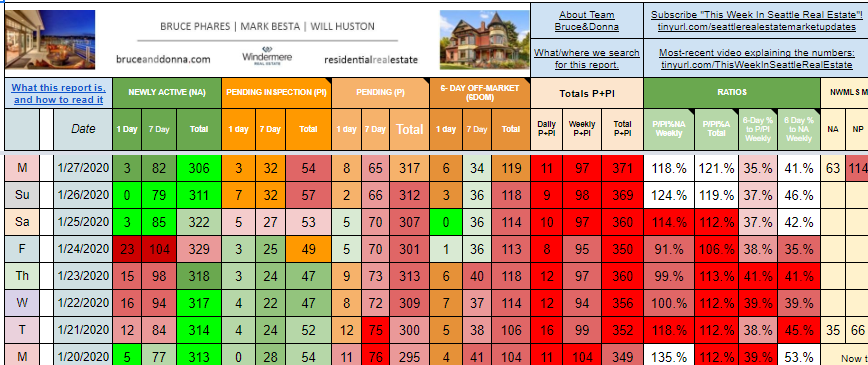 NA Wkly/Total strong after a surge last week. PI Wkly/Total up. P up, Total @PCH. 6DOM up, strong. P/PI Wkly/Totals @PCH. Ratios: P/PI to NA Wkly/Total strong. 6DOMs @ 45% and 37%. NWMLS Mkt Watch NP to NA 129%, NP@PCH. https://youtu.be/010kwsjgojI
(Keys: PCH Post NA=New Active. PI=Pending Inspection. P=Pending. 6DOM= 6-day or less off-market. SIP=Shelter In Place, PSIP= Post Shelter In Place)
(Colors: Yellow=highest year to date. White=white hot. Red=light to bright=warming to red-hot. Green=cooling to low. Fuschia=highest since Shelter In Place.)
If you'd like to see our explanation of how the statistics graph page works, click here: https://youtu.be/Eyb7qmA_yZs
Subscribe to either the monthly, weekly, or daily email updates here: http://tinyurl.com/seattlerealestatemarketupdates
See daily updates to our market graph: tinyurl.com/BPStatisticsDaily
That's it for now, we hope you will continue to stay safe, stay healthy!
Bruce Phares
We sincerely thank you for the generous referrals of your family and friends! It's the highest compliment you can give,
and you can be sure we'll represent them loyally and confidently. We welcome the opportunity to make you glad you did!
30+ Years Of Real Estate Excellence – Seattle Magazine 5-Star Real Estate Agent since inception